So so so, there are three open positions at a growing, international startup: Marketing manager, Partner manager, and Marketing & partner management trainee.
All positions require native-level Swedish (written and spoken) as the mission is to grow Venuu's business in Sweden. The jobs are based in Punavuori, Helsinki. Read more below!
Venuu = "Airbnb of event spaces", the biggest venue booking service in Finland and Sweden with more than 3500 spaces listed. Venuu.fi / Venuu.se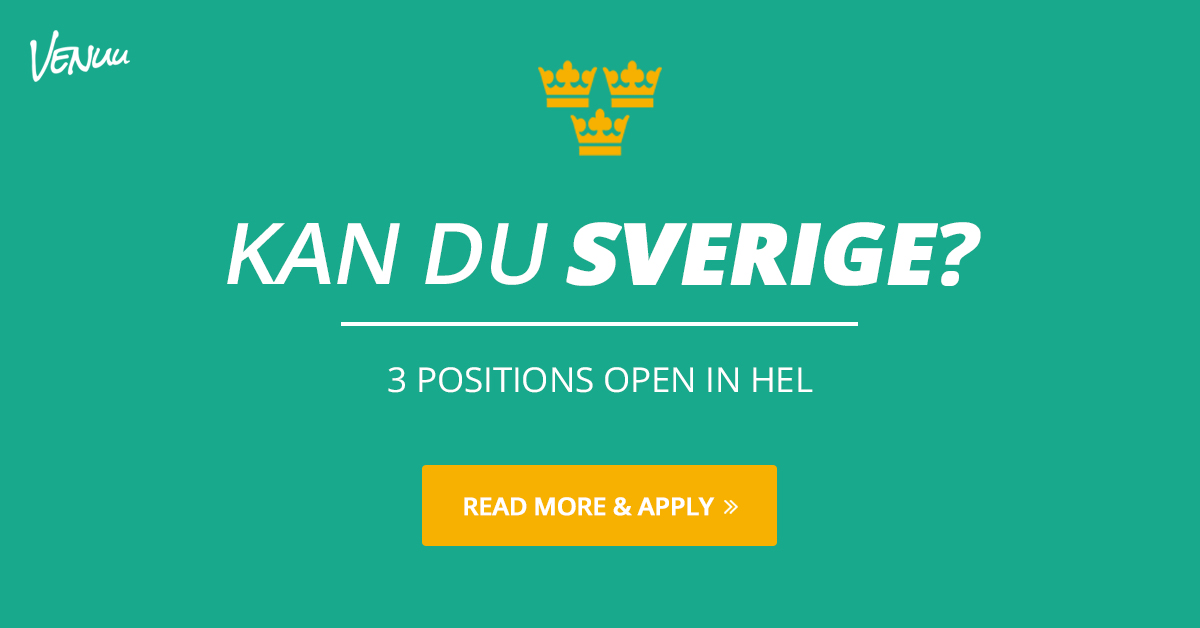 Below a summary of all open positions + links to more detailed job descriptions and instructions on how to apply.
Marketing manager
The job:
Online marketing and b2b customer acquisition for the Swedish market
Everything from content creation, SEO and social media to running massive email campaigns to corporate event organizers
You manage the Swedish marketing team (e.g. interns helping you scale yourself)
You're fully part of the whole team doing everything it takes to grow the business in current and existing markets
Best suited for:
Young professionals with 1-4 years of work experience
Recent graduates with a fast-learning brain, and a ferocious hunger to grow and take responsibility
People with a burning interest in marketing, customer acquisition, growth hacking, and joining a growing startup
Partner manager
####The job:
Simply put, you're the best friend to all our venue partners in Sweden
You support venue providers in making their Venuu profiles shine, and onboard new partners and make them feel cared for
You do sales to venue providers who previously haven't joined the service (inbound & outbound)
-You manage the Swedish Partner management team (e.g. interns helping you scale yourself)
You work in tandem with the Finnish Partner manager, the Swedish Marketing manager and with the whole Venuu team
Best suited for:
Young professionals with 1-3 years of work experience
Recent graduates with a hunger to learn, grow and take responsibility
People with a burning interest in sales, world-class customer service, and joining a growing startup
Marketing & Partner management Trainee
The job:
You work closely with the Marketing manager and Partner manager and assist them in a broad set of tasks
Online marketing: content creation, link-building, social media, creating newsletters etc.
B2B customer acquisition: email campaigns to corporate event organizers, helping customers find the best venues and other customer support
Partner management: creating and improving the venue profiles, prospecting new venues and supporting our partners
You're fully part of the whole team doing everything it takes to grow the business in current and future markets
Best suited for:
Students or recent graduates with a fast-learning brain, and a ferocious hunger to grow and take responsibility (this can be your first internship)
People with a burning interest in learning a lot about marketing, customer acquisition, partner management, sales and online businesses and startups in general