So yes, there's a big job opening in a growing, international startup. We're looking for a sales and customer service oriented, Swedish-speaking Partner Manager to take over the Swedish market and all its event venue providers. The job is based in Punavuori, Helsinki. Read more below.
Venuu = "Airbnb of event spaces", the biggest venue booking service in Finland and Sweden with more than 3500 spaces listed. Venuu.fi / Venuu.se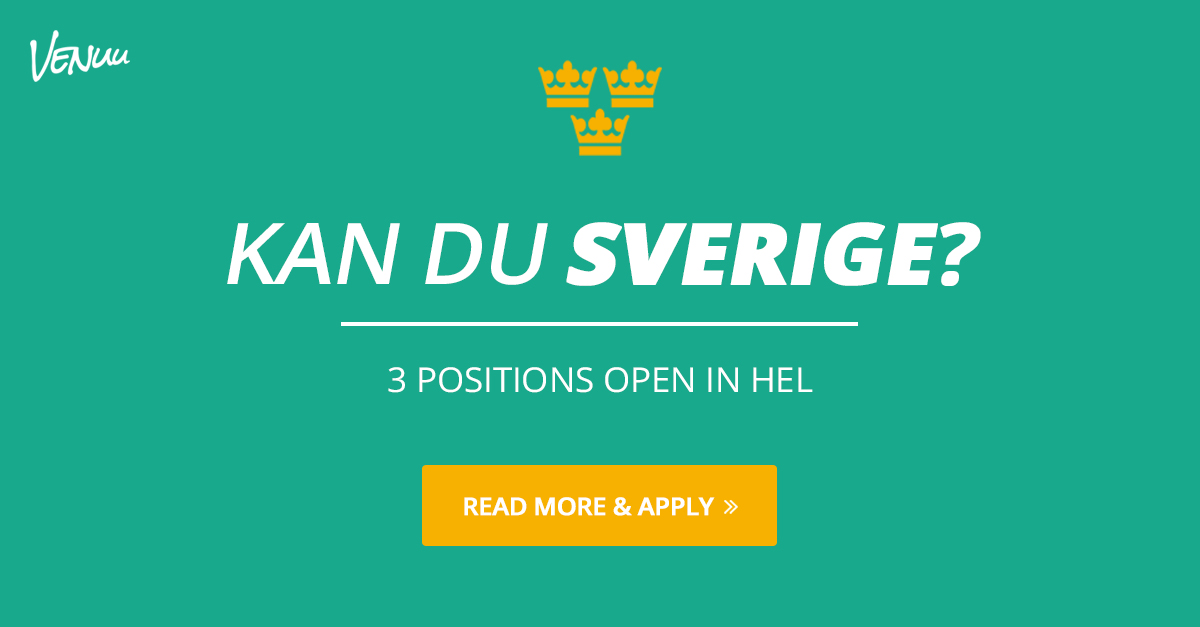 In short:
The job: The best friend of our Swedish partners (venue & service providers, currently 1400 listings), you help them get the most out of Venuu. You also do sales to acquire new venue providers.
Requirements: Confidence. Sales and customer service attitude. Natural written word with grammar in check. Structured and well-organized approach. Humor. Big heart.
Language: Swedish as a native language. Preferably "Swedish swedish", but "Finnish Swedish" with an ability to fake decent "rikssvenska" works too. Finnish language also considered a big plus, since the rest of the team speaks Finnish.
Start: Asap
Working hours: Full-time, or close to full-time
$$$: TBD
Team: 15 crazy cool & ambitious professionals. Avg. age 28.
Office: Punavuori, Helsinki
Tasks and responsibilities:
Simply put, you're the best friend to all our venue partners in Sweden
You take over the whole partner management function for the Swedish market – and develop our processes further
You support venue providers in making their Venuu profiles shine
You guide lost lambs back to the herd – aka. you do sales to venue providers who previously haven't joined the service (inbound & outbound)
You onboard new partners and make them feel cared for
You lead and manage the Swedish Partner management team (e.g. interns helping you scale yourself)
You work in tandem with the Finnish Partner manager, the Swedish Marketing manager and with the whole Venuu team
Requirements:
Fast-paced work suits you – juggling a great number of things simultaneously is what your brain is built for
Well-organized approach to structuring your work
You can write. You didn't fail grammar.
Grabbing the phone and dialing away comes naturally
Sales-oriented partner support is your thing
Previous relevant work experience is not a must, ambition and attitude are
Swedish language at a native level (spoken and written). Preferably "Swedish swedish", but "Finnish Swedish" with an ability to fake decent "rikssvenska" works too.
Finnish language also considered a big plus, since the rest of the team speaks Finnish
You're a team fit, and appreciate a great work culture
Especially suitable for:
Young professionals with 1-3 years of work experience
Recent graduates with a hunger to learn, grow and take responsibility
People with a burning interest in sales, world-class customer service, and joining a growing startup
What we offer you:
A full-on, extremely important role in the team
Big responsibility in growing the Swedish business
A freakishly cool office in the heart of Punavuori
A way into the fast-moving startup scene
Possibility to earn options in the company
What next?
######Option 1: Apply Send a short application titled *"Application: Partner management Sweden"* + CV to **[jaakko@venuu.fi](mailto:jaakko@venuu.fi)** by **Sunday 27th August**. Which language? We understand English, Finnish and Swedish.
If possible, don't wait until the last day – we're going to make decisions as soon as we find the perfect candidate.
Option 2: Ask for more info
Something you want to talk about? Do contact jaakko@venuu.fi, +358 50 347 7012.
Option 3: Share to people who might be interested
Know people to whom this might be a dream-come-true opportunity? Do share on Facebook, Whatsapp or other channels. We're happy to reward you if we go on to hire a candidate you referred to us!
1000 x thanks!
NOTE! There's also two other open positions in Helsinki for Swedish-speakers:
---
Venuu is the biggest party, meeting and event venue booking service in Finland and Sweden. Now also hustling experiences and activities for groups!